Behance has over 24 million members, they generate thousands of cases daily. Standing out is no easy task, but here are some handy tips.
As they say, "It's what shows up on the surface that counts." Having a good design case is not enough. You should also wrap it in a flashy package to make it pop. How about we get into it?
Content is queen
Content should be structured, understandable, and attention-grabbing. Let's go step by step.
Introduction
First, immerse the audience into the context of the case. If you just post the result as it is, it might not draw much interest in your artwork.
For a personal case, you can describe your idea. What inspired you to create the design? What goal did you set for yourself?
For a business case, you can introduce your client and explain the project's objective.
Keep it short. A few sentences or an animated explainer would be enough to set a scene. If you overdo it, you may only set boredom. We don't need that, right?
Storytelling
Your work process is golden, show it! Tell a story, visual or textual. Add sketches, wireframes, and storyboards.
There is a special genre on Behance called Making of, you can find inspiration there.
Presentation
Draw attention to specific details. Everything works as long as it keeps the scroll going.
Try different layouts and compositions to highlight the essential parts.
For 3D objects, let the users view them from different angles.
If you have too many static images, animate them.
Different types of visuals keep the audience engaged, demonstrate your design skills, and inspire others.
Formats and tools for visuals
Images
Use JPG only. Of course, you can upload PNG, but it more likely crashes cause of the Behance compressing algorithm. The optimal image width is 1,400 px, Behance will compress wider media. Upload your pictures one by one, not in a batch. This way pictures will upload faster and the page won't crash.
Video and animations
You can use different video formats. But the autoplay function will be available only for YouTube or Vimeo embedded videos.
To use it, click "share" and generate embedding code.
Note: you can use a video with autoplay on Behance once per page. If you need it more than once, use GIFs. Keep in mind that GIFs reduce quality. From our experience, the autoplay function works better on Vimeo videos.
3D Models
You can integrate 3D models in your Behance case with Sketchfab. Register an account there, embed the code of your model, and insert it as media.
This is what it will look like:
Figma projects
To integrate a Figma prototype, get its embed code and paste into Behance. Boom. Your audience can play around with your design. Feels professional now, does it?
Long enough!
Behance is all about scrolling through. Anyway, make sure that it does not take forever.
We recommend making the Behance project from 10 to 15 thousand pixels long: fair to tell your story but not too lengthy to make the audience sick of it.
How to get on the Best of Behance page
Best of Behance is what the moderation team selects manually. It is the main page of Behance and each of its categories.
There's a reason to strive to get there: it is the place where your potential clients most likely will notice you.
Project cover
If you want to pinpoint the details of the specific part of your project, make the key element your preview.
If your case involves characters you can use them.
Make a collage if you want to showcase several parts of your design.
Project settings
Add tags, credentials, tools you've used in your project settings, and shoutout to others who participated in the project.
Tip: add at least one Adobe tool in the "Tools used" section, even if you haven't used any. This will increase your chances to end up in "Best of Behance".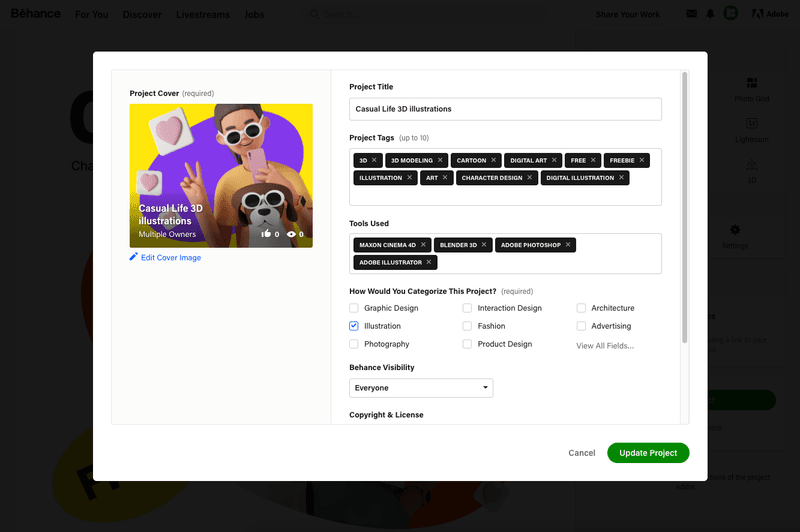 Networking on Behance
If you have a personal account, use the same name and profile picture as you use on your other social media. If you're working on behalf of a company, use your brand identity.
Comment and rate other designers' works to get more views for your page and cases.
Do's
Comments are an opportunity to stand out. Specific, meaningful comments will separate you from most other designers, making you look professional. You can tell what you think and highlight what the team or author did well. For example, Planet Earth is a book design case.

Dont's
Avoid low-effort comments. They will drown in hundreds of those that look similar.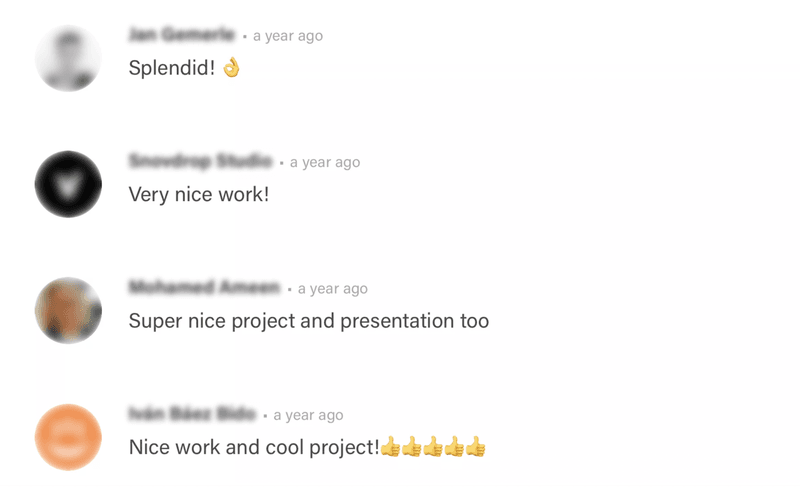 Don't beg for reviews. It violates the rules of Behance and most likely will not attract a lot of new followers.


Summary
Pay attention to the content. Make it structured, interactive, and catchy.
Highlight key ideas in the preview.
Do not make it longer than 15,000 px.
Comment on other users' cases with a real point in it
And don't ever get discouraged if you still haven't made it to Best of Behance. Some cases get noticed by moderators after months or even years after posting. Maybe you need to take it easy and wait for some time.
Further reading: